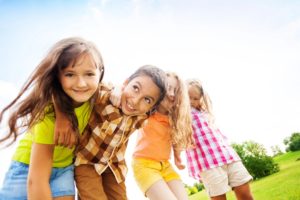 Twenty or thirty years ago, playing sports meant running around with the kids in the neighborhood and playing catch, shooting hoops or riding bikes. Usually the only restriction you had was getting home before the streetlights turned on.
Today, having hours of free, unstructured playtime is a rare treat. Instead, kids hop in the car after school and rush off to soccer practice, piano or tutoring. On weekends, young competitive athletes often board planes and travel thousands of miles away to play against kids they've never met.
"In just the past 20 years, structured sports time has doubled and unstructured children's activities have declined 50 percent," says Dr. Alvin Rosenfeld, child psychiatrist and author of The Over-Scheduled Child: Avoiding the Hyper-Parenting Trap.
Many parents are busier than cruise ship directors coordinating activities and rearranging family priorities around all their kids' enrichment activities, says Rosenfeld. "Family time disappears and church goes away because that's ice (hockey) time or gymnastics practice," he says. "I don't think enrichment activities are bad. I think they're very helpful, actually. It's just the overabundance of them in any one kid or family is just too much."
In fact, a number of studies have shown that kids who participate in extracurricular activities are more likely to do well academically and socially, have a higher level of self-esteem and are less likely to take drugs or engage in risky behaviors. The key is to find the right balance for each child.
Avoiding the Overscheduling Trap
When kids are overscheduled, they often become stressed out or depressed, which affects their performance in the classroom and on the field. "You get the parents who are scheduling their kids so tightly that they're in school, they're studying for tests, they're up late at night, they're travelling in the car, they're going to practice – they're exhausted!" says Michael Bergeron, Ph.D., director of the National Youth Sports Health & Safety Institute (NYSHS). "And so that free relaxation, play and rest isn't there. And a lot of the problems that you see with kids – whether it's academic underachievement or injuries – are really related to fatigue."
Parents should be on the lookout for signs that their children may be on overload such as having trouble sleeping, chronic stomachaches, frequent tears and tantrums, or complaining every time they head out to an activity or game.
In some households, the entire family life revolves around kids' sports and activities. It's not uncommon for parents to miss work, give up time together as a couple, or devote entire weekends to out-of-state tournaments.
"What we focus on too often is the number of activities, and what we ought to be focusing on is, how are they affecting my specific family," says Rosenfeld. "If you're finding that you're always resentful about the driving, if you're grumpy…if you feel that martyrdom is the ultimate motherhood, I think you're probably making an error and you've gone too far."
As a baseball coach and father of four, Mike Clements adopts a low-stress approach to his children's extracurricular activities. "The most important thing is that they have fun and that they enjoy what they're doing," says Clements. His kids enjoy a number of activities throughout the year including piano, flute, art, drama, soccer, baseball and basketball, but the family rule is only one sport per season for each child.
Last winter, when his 8-year-old daughter wanted to join a basketball league in the middle of her gymnastics competitive season, he told her she had to choose. "It would have been too much overlap and just too much to juggle," says Clements. She chose to stick with her favorite sport, gymnastics.
Training Like the Pros
While sports offer a myriad of health and social benefits, overtraining poses serious risks. A growing number of youth are playing year-round and training like professional athletes, resulting in a significant increase in overuse injuries, concussions and heat exhaustion. "Stress fractures in sports have more than doubled in the last ten years from doing too much," says Bergeron, who is a professor of pediatrics at the University of South Dakota's Sanford School of Medicine.
Although some parents are pushing their kids to specialize as early as 5 or 6 years old, the American Academy of Pediatrics recommends waiting until adolescence for a child to train in a single sport. Participating in a variety of sports improves a child's coordination and helps prevent burnout.
"In order to be a well-rounded athlete, kids should be developing all kinds of skills, not just skills that are dictated in one particular sport," says Steve Blimbaum, a Level 4 Certified Coach with USA Hockey. "It's good for the body and the mind."
Some parents believe that starting kids early in sports will increase their chances of a college scholarship or becoming a professional athlete, but the statistics show otherwise.
"More than 95 percent of kids who play high school sports will never have the chance to play in college at any level," says Bergeron. "The whole notion that this is going to be a ticket to a free ride in college is misguided." In fact, many parents spend more money investing in their children's travel teams and tournaments than they would paying for four years of college.
Winning at All Costs
To gain a competitive edge, some kids are taking supplements to increase their strength and muscle mass or consuming energy drinks loaded with caffeine. According to a recent survey, an estimated 11 percent of U.S. high school athletes may be using anabolic steroids, with boys' use estimated to be even higher.
Desperate to boost their child's performance, some parents are asking doctors for stimulant medications usually prescribed for Attention Deficit Hyperactivity Disorder (ADHD), in hopes of improving their concentration in sports and school. Like all drugs, Ritalin and Adderall have a long list of side effects, and the long-term effects on the heart and developing brain are not yet known.
When parents focus on winning all the time, it can have a negative impact on their child's self-esteem and attitude toward sports. Instead of letting kids play at their own level in a recreational league, parents sometimes push them into hard core competitive leagues before they are ready, resulting in them warming the bench most of the season.
"If the coach or the parents are all about winning, there's a lot of disappointment and a lot of pressure," says Blimbaum, who has coached ice hockey for more than 20 years in Canada and the U.S.
To increase their child's chance of making the competitive team, some parents are even resorting to elective surgery. Orthopedic surgeons are seeing a disturbing rise in the Tommy John surgery, named after the famous Yankees pitcher. The surgery, which involves replacing a ligament in the elbow, may be performed to treat an overuse injury; however, some parents are choosing to have their child undergo the surgery simply to increase their throwing speed.
Balancing School and Activities
With so much emphasis on sports and extracurricular activities, Rosenfeld reminds parents to keep their focus on school. "Academics really is your key to the future. If you're not educated today, you have a very hard time doing well," he says. "In the 1950s, a college education was unusual. Today it's expected."
With tougher college admissions, high schoolers are expected to take honors and advanced placement courses and to pad their résumés with volunteering, sports, enrichment activities and part-time jobs. Students' grades in college preparatory classes is the single most important factor in being accepted to a college, according to a survey conducted by the National Association for College Admission Counseling.
For young competitive athletes like Alex Magsam, balancing school and sports can be a serious challenge. The 16-year-old elite gymnast trains up to 25 hours a week and travels nearly every weekend during competition season.
"It's really hard because of all the school and stuff, and I miss so much. And you end up having to do homework on the trip and then make it up when you get back," says the high school junior, who has maintained straight As while pursuing his dream of competing in the 2016 Olympics. "Sometimes you have to put in late nights, but it's all worth it in the end."
Despite his grueling training and competition schedule, Magsam says he tries to spend time with family and pursue other hobbies. "I try to balance it out with other things like hanging out with friends, and I also golf a lot," he says. "It kind of keeps the stress away."
Keeping the Focus on Family
Rosenfeld advises parents to relax and spend more unstructured, free time with their kids. "We're focusing on activities and forgetting what makes us human and meaningful is the relationships," he says.
Clements, along with his wife, spends as much as 12 hours a week driving to and from activities, attending games and coaching his son's baseball team; yet, he says the most important time they spend with their kids is at the dinner table.
"Dinnertime is a time for just our family – no phone calls," he says. "With all the activities and running around, it's a time to sit back and relax for 30 minutes or so and stay connected with our kids."
Like Clements, Rosenfeld says the most valuable time parents spend with their children is not at their ball games or band concerts, but simply just being with them with no specific goal in mind – playing a game, taking walks or watching a movie together.
"The greatest gift we can give them is the deep, inner conviction that they don't have to perform for us to love and cherish them," says Rosenfeld.
---
Published in MASK