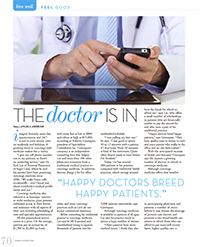 Imagine leisurely, same-day appointments and 24/7 access to your doctor, even on weekends and holidays. A growing trend in concierge-style medicine makes this a reality.
"I give my cell phone number out to my patients, so there's no answering service," says Dr. Kirk Lee of Personal Physicians of Sugarland in suburban Houston, where he and his partner have been practicing concierge medicine since 2006. "We make house calls occasionally… and I know just about everybody's medical profile inside and out," says Lee.
Concierge medicine, also referred to as boutique, retainer or niche medicine, gives patients unlimited access to their doctor and assistance with all aspects of their care including scheduling of tests and specialty appointments.
All this personalized service comes at a price. On the average, patients pay an annual fee of $1,500 to $3,000 up front, with some fees as low as $800 and others as high as $15,000, according to Roberta Greenspan, president of Specialdocs Consultants, Inc., an independent consulting firm that helped Lee and more than 100 other physicians transition from a traditional medical practice to concierge medicine. In addition, doctors charge a fee for office visits, and some concierge practices such as Lee's do not accept commercial insurance.
Before converting his traditional practice to concierge medicine, Lee says he felt frustrated and overwhelmed trying to squeeze thousands of patients into his overbooked schedule.
"I was pulling my hair out," says Lee. "I was good to spend 10 to 12 minutes with a patient, if I was lucky. Now, basically, 30 minutes is kind of the minimum. Quite often they're ready to leave before I'm finished." Today, Lee has around 300 patients in his practice, compared with traditional family practices, which average around 2,000 patients nationwide, says Greenspan.
Although concierge medicine is available to patients of all ages, Lee says his practice tends to attract a large number of retirees. "Older patients have more medical issues. I think they also have the funds for which to afford me." Lee offers a small number of scholarships to patients who are financially unable to pay the annual fee and who were a part of his original traditional practice.
"Happy doctors breed happy patients," says Greenspan. "They have quality time to devote to each and every patient who walks in the office and no one feels rushed." With the anticipated increase in health care demand, Greenspan says she expects a growing number of doctors to switch over to concierge medicine.
Although concierge medicine offers clear benefits to participating physicians and patients, a number of critics believe it may worsen the shortage of primary care doctors and promote a two-tiered health care system in which those who can afford to pay more will receive faster, higher quality care.
---
Published in Prime Living