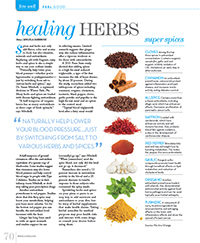 Spices and herbs not only add flavor, color and aroma to food, but also vitamins, minerals and antioxidants. Replacing salt with fragrant, tasty herbs and spices is also a simple way to cut your sodium intake.
"You can naturally help to lower your blood pressure – whether you're hypertensive or prehypertensive – just by making a switch from salt to various herbs and spices," says Susan Mitchell, Ph.D., registered dietician in Winter Park, Florida.
Many herbs and spices are loaded with disease-fighting antioxidants. "A half teaspoon of oregano leaves has as many antioxidants as three cups of fresh spinach," says Mitchell.
A half teaspoon of ground cinnamon offers the antioxidant equivalent of a quarter cup of blueberries. Some studies suggest that cinnamon may also lower blood pressure and help control blood sugar in people with Type 2 diabetes. Studies are in their infancy, warns Mitchell, so don't stop taking your prescription drugs.
Another antioxidant powerhouse is red pepper. Studies show that this fiery spice may boost your metabolism, helping you burn more calories. Go for the hottest red pepper you can handle; the antioxidant level increases with the heat.
Ginger has long been used to settle an upset stomach, and studies support its use in relieving nausea. Limited research suggests that ginger may also reduce inflammation after a vigorous workout or for those with osteoarthritis.
A 2011 Penn State study showed that adding spices to a high-fat meal reduced triglyceride response by 30 percent. Triglycerides are a type of fat that increase the risk of heart disease. During the study, researchers added two tablespoons of spices including rosemary, oregano, cinnamon, turmeric, black pepper, cloves, garlic powder and paprika to the high-fat test meal and no spices to the control meal. "Typical blood triglyceride level after a fatty meal would (normally) go up," says Mitchell. "When (researchers) used the spice blend, not only did the level not go up, it decreased." Researchers also noted a 13 percent increase in antioxidant activity in the blood and 20 percent decrease in insulin response in those subjects who consumed the meals with spices.
Sprinkling culinary herbs and spices on your pizza or pasta is an easy way to add nutrients and antioxidants to your diet, but be wary of herbal supplements that make health claims. Taking herbal remedies for medical purposes may pose health risks and interact with some drugs, so consult your doctor or an herbal medicine specialist before using them.
---
Drinking three cups of black tea daily over a six-month period may produce a small but significant drop in blood pressure, according to a study from the University of Western Australia. The study shows that regular consumption of black tea could potentially decrease the prevalence of hypertension by 10 percent in the general population, translating into a 7 to 10 percent drop in stroke and heart disease. This study adds to a large body of research in recent years touting the health benefits of tea in combating everything from cancer and cavities to diabetes and Parkinson's disease. A number of studies have also been conducted on green tea, known for its high antioxidant level.
---
Published in Prime Living